Supravox
Heritage Series
The SUPRAVOX loudspeakers of the Heritage series are directly inspired by the brand's legendary products.
This brand new loudspeaker takes up the original cone of the mythical T. 215 SRTF wideband of the sixties.
We started from original models in order to find the sound qualities that have satisfied music lovers over the past decades.
The new Alnico motor, developed under FEA software, is designed around a central magnet of one kilogram of Alnico 5. This arrangement makes it possible to capture 100% of the energy of the magnet. The magnetic field reaches 1.2T in the 8mm gap.
The profile of the pole brings a perfect symmetry of the Bl(x) curve, with an excursion of 3.2mm, and generates less distortion.
We have designed a new voice-coil, light, in copper-plated aluminum wire, on Nomex support.
A thorough study of the treatment of the membrane ensures a linear and very extended response.
The addition of the original bicone, in very thin and light paper, stiffened by a specific treatment, makes it possible to extend the response up to 20kHz.
This loudspeaker is also available without bicone for music lovers wishing to switch to 2 ways by adding a tweeter.
TECHNICAL CHARACTERISTICS
Below are the 2019 parameters, measured using AES2-1984-r2003.
| | |
| --- | --- |
| Sensitivity 2.83V/1m: | 96,5 dBspl |
| Sensitivity 1W/1m: | 94,8 dBspl |
| Bandwidth : | 50Hz-20KHz |
| Impedance: | 8 o'clock |
| power max. RMS : | 25W |
| | |
| --- | --- |
| Membrane : | Paper |
| Suspension : | 3 ply paper |
| Reel : | 25 mm |
| X max : | +/- 3,2 mm |
| X damage : | 6,5 mm |
| Magnet : | Alnico V |
| Bowl diameter: | 224/237 mm |
| Mounting hole distance: | 224 mm |
| Enclosure drilling diameter: | 212 mm |
| HP depth: | 157 mm |
| Salad bowl: | Aluminium. |
| | |
| --- | --- |
| Fs : | 60 Hz |
| Re : | 5.5 Ohms |
| And 1 kHz : | – mH |
| Qts : | 0,61 |
| Question: | 0,75 |
| Qms : | 3,4 |
| You: | 65 L |
| With : | 5,4 |
| Mms : | 10,6 g |
| Sd : | 263 cm² |
Share
Regular price
Sale price
€1.399,00
Unit price
per
Sale
Sold out
View full details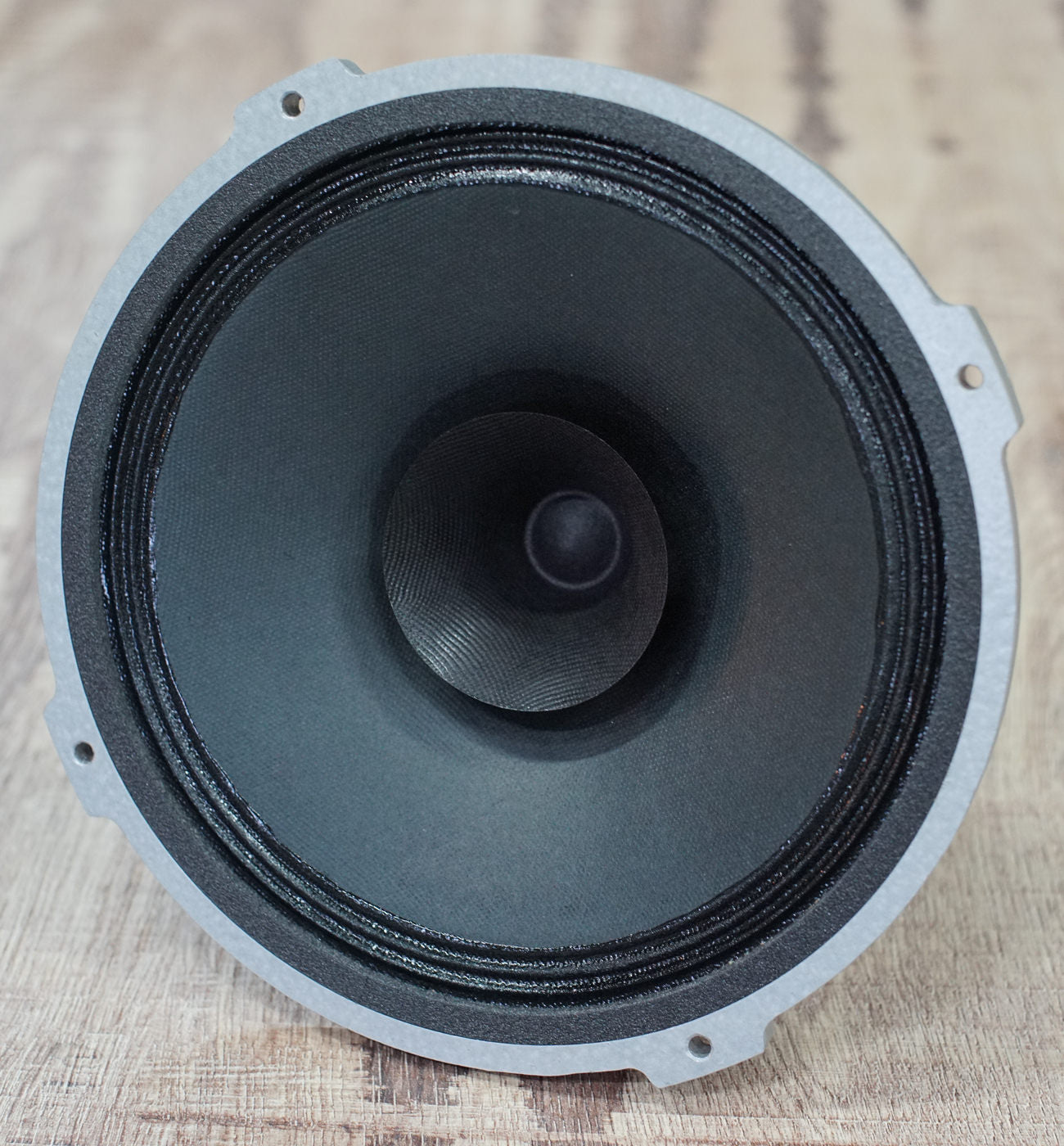 Contact-us for more information